Advertise in Our Magazine
---
Our popular magazine contains feature articles, children's book recommendations, expert advice, community-wide and GGMG-member-only event listings, and news about our organization.
Circulation 
Our magazine is published six times a year: February, April, June, August, October, and December. Generally, the magazine arrives in mailboxes during the first week of the month. Our magazine circulation is approximately 3000 copies.
Advertising 
The magazine accepts advertising from outside sources; view our ad rates and specs, or request your ad reservation here. Please note: GGMG members do not get discounts on advertising rates.
---
Latest Issue
Facing Our Fears October / November 2019
Letter from the Editor: Fear Itself
Sonya Abrams
Letter from the Board: All We Have to Fear
Virginia Green
Out and About
Creepy Movies for Kids  
Li'l Kid, Big City: Petaluma 
Little Dippers: Celebrate Diwali! 
Ask the Expert: Food Allergies
Zahida Rani Maskatia
From the Forums: Alternative Thanksgivings
Tara Hardesty
Dadlands: Swedish Parenting
Oscar Boberg
Books for Kids: Facing Your Fears
Laure Latham
Books for Parents: Books that help parents manage divorce
Gail Cornwall
What Every Woman Should Know About Postpartum Depression
Juli Fraga
Risky Play: Loosening the Reins on Our Children
Jennifer Kuhr Butterfoss
What Do We Have to Fear?
Veronica Reilly-Granich
Member Profile: Gabriella Cirelli
Jennifer Sato
I Heart Mom: What Lurks Beneath the Surface
Victoria Dvorak
Womb to World: New Mom Fears
Christine Chen
---
View PDF version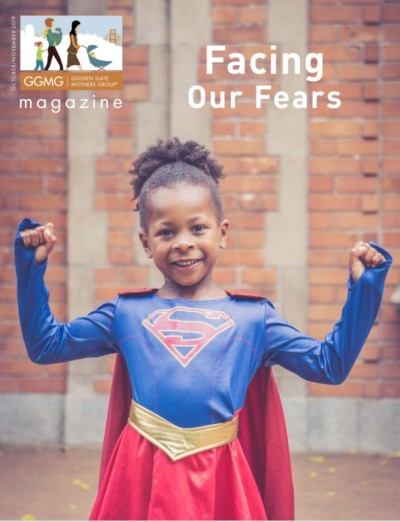 ---