Advertise in Our Magazine
---
Our popular magazine contains feature articles, children's book recommendations, expert advice, community-wide and GGMG-member-only event listings, and news about our organization.
Circulation 
Our magazine is published six times a year: February, April, June, August, October, and December. Generally, the magazine arrives in mailboxes during the first week of the month. Our magazine circulation is approximately 4400 copies.
Advertising 
The magazine accepts advertising from outside sources; view our ad rates and specs, or request your ad reservation here. Please note: GGMG members do not get discounts on advertising rates.
---
Latest Issue
Past Present Future February / March 2018
Letter from the Editor: Time Traveling
Thinking about tomorrow at the expense of today
Letter from the Board: A Fond Farewell and Thanks
Looking back on time spent volunteering with GGMG
Out and About
Go Play Inside!
Li'l Kid, Big City: Excelsior
Winter Wonderland
Ask the Expert: Estate Planning
Planning for your family's financial future
Dadlands: Parenting for the Future
Helping our children navigate a radically changing world
Member Profile: Pratima Gupta
A look inside the life of a longtime GGMG member
Books for Kids: Asia
Celebrate the Chinese New Year and Asian cultures
From Womb to World: Beyond the Baby Book
Saving the earliest memories
Barbies, Bricks, and Bonding
A look at the evolution of Barbie and LEGO
The Power of Presence
Ways to practice staying in the moment
Menopause 101
Big body changes await us all. Be prepared.
I Heart Mom: Looking Back with a New Perspective
Then and now: Appreciating my mom's parenting style
---
View PDF version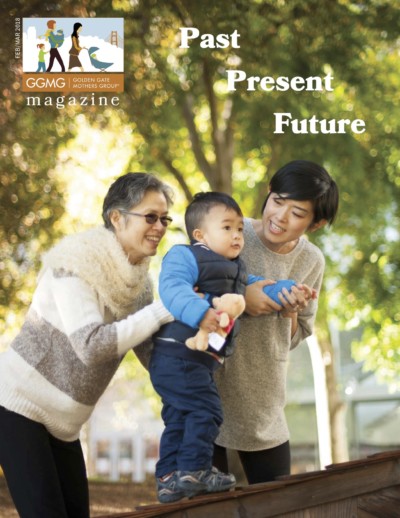 ---