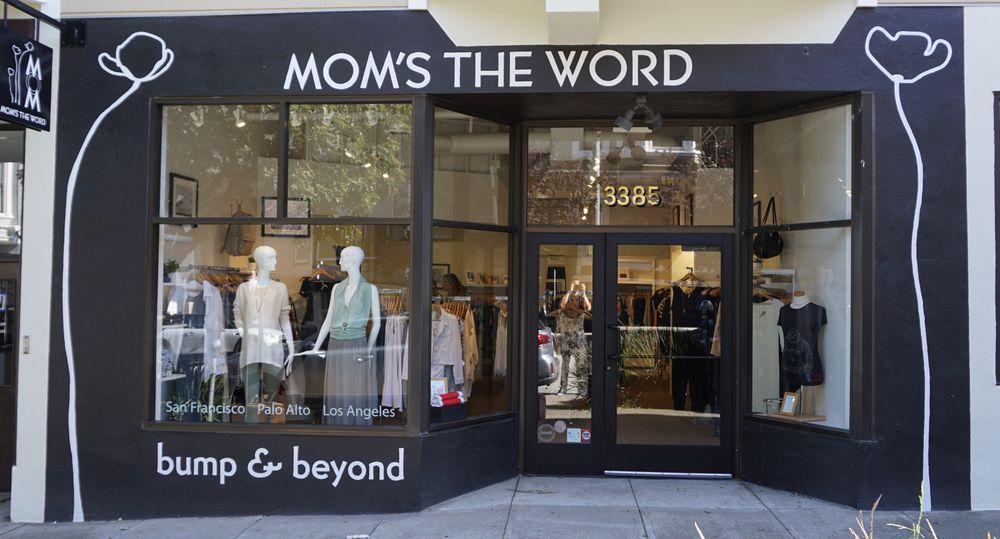 Even when we are not expecting, most of us have a few key pieces that we wear all the time, mixing with different pieces and accessories so we are not wearing the same look every day.  Think of Mom's the Word as a one-stop-shop for these go-to maternity items.  They have a variety of quality jeans, undergarments, tees, tanks, dresses, sweaters and accessories to make everyday maternity dressing a breeze.   
If you are expecting for the first-time, it is well worth your while to visit Mom's the Word and pick up a few key basics. For second- and third-time Mommas, this is a great spot to easily supplement your existing maternity wardrobe and keep it fresh.  The store was opened over 20 years ago with expecting Moms in mind. They carry several well-known brands (Paige, J Brand, Commando) and their own line as well.  The items they carry are meant to help you transition from pregnancy through to your busy life as a mom, with several tops and dresses that work well for breast-feeding.
During my visit, I worked with Amber and Kate who were both so easy, fun and knowledgable. They are a great resource for first-time mothers (and second-time, too as I learned quite a bit.)  And, they will make you feel like a million bucks and you won't have to spend nearly that much. Each of the outfits below (all pieces including accessories) are less than $400. 
Below are a few tips & tricks I learned on my visit:  
If your belly button is popping out, use a silicone nipple cover and it will smooth it out
All maternity jeans/ side-panel denim: these are held up by your lower waist and upper thigh, so often you will not take your typical size.  
Maternity denim is best to try-on in person and see what is best for your body type
Do not put side-panel denim in the dryer!
Denim Sizing Tips (by brand):

Paige

General: You want these to be very snug as they stretch out
Stretch: These tend to stretch out quite a bit
Rise: Sits higher on the waist (typically not as high as J Brand)
Sizing: Generally go down 1-2 sizes

J Brand

General: Runs narrow in hip and leg
Stretch: These jeans do not stretch quite as much
Rise: Sits higher on the waist line
Sizing: You might take a size up, depending on body type. Need to try on!

DL1961

General: Offer some different washes than others, distressed, indigo, etc.
Stretch: Stretches out similar to Paige maternity jeans 
Rise: The waistline sits lower than Paige
Sizing: Generally you will go down 1-1.5 sizes
---
I will admit, I have not worn overalls since the a pair I bought from Contempo Casuals in the 90s. Boy have I been missing out!  These are the most comfortable jeans I have worn in both of my pregnancies. If I had not been almost 37 weeks pregnant, I would have certainly bought them on the spot as they would be perfect for going to the park with my daughter and for lounging around at home. 
Ripe Denim, Jessie Overalls, Indigo, Medium, $124 
Alex & Harry, White Tee, Size 2, $58 
Mom Necklace, $44
---
This was the dressiest of the outfits and would be perfect for your shower, a date night (before and after baby) or even to the office, depending on where you work. You could easily dress up with some heels or wear with booties.  The top has cut-outs for nursing so will transition well into motherhood.
Serafina, Blue Nursing Dress, Small, $108
Lago, Rose Quartz Necklace, $48 (Local Designer!)
Paige, Vivienne Denim Jacket, Medium, $209
---
This outfit was made for being out and about in SF.  Wear with white sneakers to walk along Ocean Beach or throw on slides for an afternoon in Dolores Park.  Paige, Nell Wide Leg Crop, Size 27, $239
Tees by Tina, White with grey, OneSize, $50 
6-strand magnetic Bracelet, $32
Silver Tassel Necklace, $32
---
This outfit was my favorite (and my husband's!) The form fitting dress hugs in all of the right places and has the perfect amount or stretch and thickness.  The top is also nursing friendly so will transition into motherhood.  During colder months, add some tights and booties with a brightly colored scarf.
Mom's the Word, Gwen Nursing Dress, Medium, $102 
Fifteen Twenty, Leather patch Jacket, Small, $228
Silver Circle Necklace, $28
---
You cannot go wrong with this outfit.  It easily transitions from a work outfit to a weekend/brunch/running errands ensemble. You could easily add a leopard scarf for a leather jacket.  Olive colored chinos go well with neutrals as well as patterns, so these pants will be very versatile throughout your pregnancy. 
Paige, Brigette Pants, Size 26, $219
Moms the Word, Ivory Cami, OneSize, $28  
Kerisma, Ivory Sweater, M/L,  $74
Mom Necklace, $44
---
---