Dressing while Expecting: Hero Shop SF
---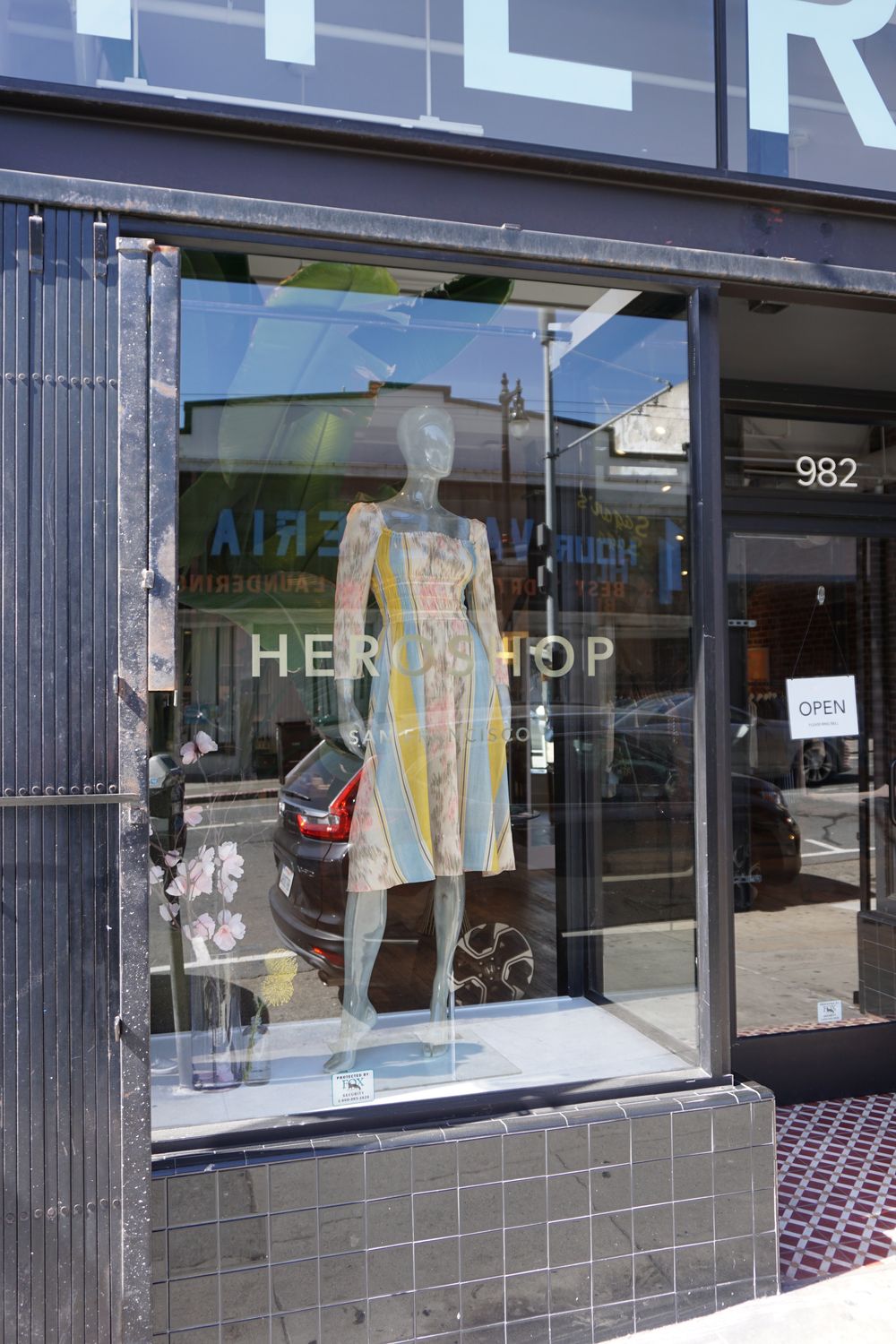 ---
So you found out you are expecting, but simply cannot imagine trading in your designer style for maternity clothes.  Well, have no fear:  Hero Shop has you covered.  The name alone is perfect for GGMG Mommas as each of you are a Hero in your own right! 
Opened in June 2016 by Emily Holt, a former Vogue fashion editor and Bay Area native, Hero Shop carries a beautifully curated collection of labels such as Brock Collection, Tibi, Nili Lotan, Ganni and more.  They also carry several San Francisco-based brands like Stevie Howell, MMClay, Tina Frey and Culk.  These are not names synonymous with "maternity" dressing, but you would be surprised by the wide variety of options that will take you from first trimester through your third, without having to relinquish your image.
In just a few minutes of perusing the racks of clothes, we found five outfits that look great and would work perfectly in San Francisco whether you are headed to work, an art gallery opening, dinner with your partner or grabbing brunch with friends while you are expecting.  

A few recommendations when looking for non-maternity/maternity clothes: look for items with drop-waists, flowy tops, looser cuts, and elastic waists.  Also, form-fitting or ribbed items also work as the stretch is forgiving as your bump begins to grow.  And by all means, take some risks – you never know what might work!
If you like what you see, do not hesitate to let Ashley (the Store Manager) or Emily (the owner) know that you saw this blog.

Happy Shopping!
---
This drop-waist cotton dress is ideal for running errands, grabbing brunch with friends or even a casual Friday at work. If the weather turns cold, throw on a pair of leggings. Also, Vans slip-ons are the best shoe for late pregnancy as you can slip them on without having to sit down or put in much effort 
LOOK #1
Black Allude V Neck Shirt Dress (medium) $195 
Red Bembien Jolene Bag $175
Red Alison Lou Medium Jelly Hoops $145
Megacheck Classic Slip-on Vans (10)  $50
---
Wear this dress to work, just add a blazer and flats.  Or, wear this out to dinner with black tights, heels, statement earrings and a red lip. 

LOOK #2 
Tarzan Leopard HVN dress (8) $695
Black Ancient Greek Sandals Schinousa Sandal (41) $250
Silver Sophie Buhai Long Large Circle Pendant $915 
Walker Wolfe Black Ostrich Feather Clutch $280
---
If you want to look and feel fabulous, this is your outfit.  The pants have an elastic waist for comfort and wide legs for style.  The cold-shouldered shirt feels amazing on the skin. I seriously felt the most chic in this look. You could easily put on a booty or flat if the weather does not allow for sandals.
LOOK #3

Navy Rosetta Getty Cut Out Shoulder Top (4) $780
Black Rosetta Getty Cropped Straight Pant (medium) $770
Gold Jennifer Fisher 3" Lilly Hoops $490
Black Ancient Greek Sandals Schinousa Sandal (41) $250
---
Nothing beats a black slip dress and a classic pair of gold hoops.  There are myriad ways you could wear this outfit, I have included two versions with the same dress, shoes and earrings.  One for a night out on the town and another for a more casual (and cooler) San Francisco day.  You could also throw on an oversize sweater with boots for a 90's vibe or even a blazer with heels.  The options are limitless!
LOOK #4 - Part 1
Black Nili Lotan Cami Dress (small) $595
Pale Pink Edie Parker Shorty Satin bag $595
Gold Jennifer Fisher 3" Lilly Hoops $490
Black Ancient Greek Sandals Schinousa Sandal (41) $250
---
LOOK #4 - Part 2
Black Nili Lotan Cami Dress (small) $595
Fade to Black Levis Ex Boyfriend Sherpa Trucker (medium) $128
Gold Jennifer Fisher 3" Lilly Hoops $490
Black Ancient Greek Sandals Schinousa Sandal (41) $250
---
This robe is an absolute dream and the designer, Stevie Howell, is a native San Franciscan.  If you want to feel glam giving after giving birth, this is the robe for you.  Or if you are reading this before Mother's Day, drop the hint with this as the perfect gift.  You will not regret it!
LOOK #5
Floral Stevie Howell Welles Silk Robe (one size) $690
(SF DESIGNER)
---
Hero Shop carries amazing accessories, so if you want to amp up your look regardless of your state of expecting, check out some of the detailed shots of the accessories that went with the outfits.
---
---
---
---
---
---
Amanda Rabideau is the mom of one daughter and expecting a baby boy in May 2019. When she is not marketing and driving revenue for her full-time job, she curates the content for the GGMG Instagram account.  
See more posts by Amanda W. Rabideau
---
---
Comments
Login to your member account to comment on this blog post.